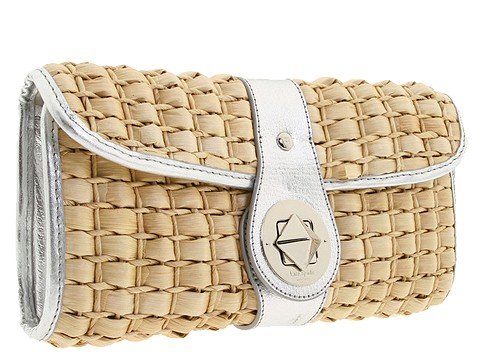 It's snowing pretty hard here today, 12" or so by tonight. Snow only makes me think of one thing: spring! I know I talk about spring a lot but you can never prepare too early! My mother spent most of her early years in the Bahamas with her Mother and Father, and she saved many of her straw accessories from the islands. Her love of straw handbags has led me to have a strong affinity for straw as well. I still have the most amazing bag from her childhood, it's white straw with big pink and yellow flowers. A few years ago, I received a kate spade straw clutch as a gift from my father. It is the same look as the one at the top, but it's tan, white, and pink stripes with white leather piping and a tiny gold clasp. The surprise inside? Polka dotted lining!
A few days ago, on the Vineyard Vines website, I found a
straw tote
with their signature patchwork along the top and bamboo handles. Put this on your Christmas list and come spring, pair it with a Lilly Originals shift and you'll be effortlessly chic!
Another option is this ADORABLE clutch from
Instyle Design
. And it comes with six other ribbons to coordinate with any outfit! (I tried so hard to get the picture to work, but it's just too big. Just go to the website, it's worth it!)
(photos: zappos.com, vineyardvines.com, instyledesignonline.com)