It's no secret I LOVE huge jewelry. Most of the large jewelry pieces that I wear are costume jewelry, and the king of costume jewelry (in my opinion) is Kenneth Jay Lane. Nearly everything he makes is totally lustworthy, but the once piece I've been wanting for almost a year now are these large teardrop emerald earrings. Kyle Richards, Kelly Ripa, and Nicky Hilton have all worn these earrings, and I just HAD to get my hands on a pair! (In the picture below, Angelina is not wearing KJL, she's wearing genuine Columbian emeralds. Unfortunately, the hubs puts my jewelry limit at only $1 million, so I'm still a little short for those ;)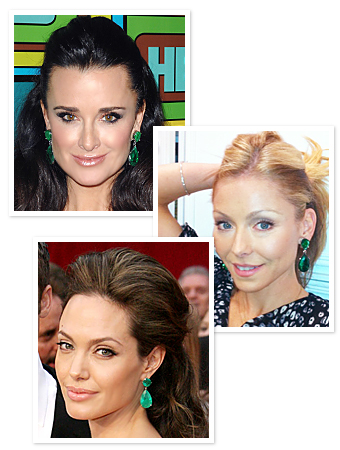 I was a bit reluctant to pay the full $150 price tag, but was going to bite the bullet. Lucky for me, ideeli came to my rescue. (If you haven't shopped ideeli,
here's your invite
. I'll take my thank you gift in the form of macarons.)
My earrings should be here on Wednesday, I'll be sure to let you know just how fab they are in person!