I am a BIG fan of Hollywood Regency style decorating.
Kelly Wearstler
,
Jonathan Adler
, many of the pages of Elle Decor. My favorite things about HR style is the mixture of unexpected pieces. I love the fabrics of all different colors and patterns, textured and printed wallpaper, mirrored and lucite tables, and collections from what seems to be a life of travels. I also have a little Palm Beach style in me too, as I like all my furniture to be white, and I will never like bright blue foo dogs or ikat like so many HR fanatics do. Of course, I love
Dorothy Draper
's touch of girly-ness too! I also have a serious thing for bamboo furniture and fabrics.
One of my favorite hobbies is scouring craigslist or yard/estate sales and finding a piece with good bones. If it needs sanding and a paint job or new upholstery, new knobs, whatever, I will take on the project! So yesterday, I was on craigslist and I came across this vintage dresser. I almost died! Wicker doors, brass knobs, and BAMBOO!!! For only $50, I snatched this dresser up! (Actually, my wonderful JPK drove an hour into the middle of nowhere and loaded it into his SUV, then moved it upstairs. He's amazing.) Here is what it looked like in the ad:
We are leaving for vacation in a few days, but as soon as we get back, I plan on sanding and giving this beauty a fresh coat of white paint. I'm lining the drawers with
Hermes scented drawer liners
(yes, the are expensive for paper but I do not care. Some people want the perfect shade of Chanel red lipstick, I want icky mornings to be as luxurious as possible!) I'm debating on the original hardware. I'm thinking I could keep it and paint it a bright gold for a Hollywood Regency look, paint it turquoise for a bit of Palm Beach, or trying to find a variety of crystal knobs for a touch of Shabby Chic. JPK even suggested we look for tan bamboo style hardware for a light Palm Beach look that keeps with the HR theme. The man moves furniture and has a decorator in him! Yes, please! Here are some pictures I'm inspired by for my new dresser: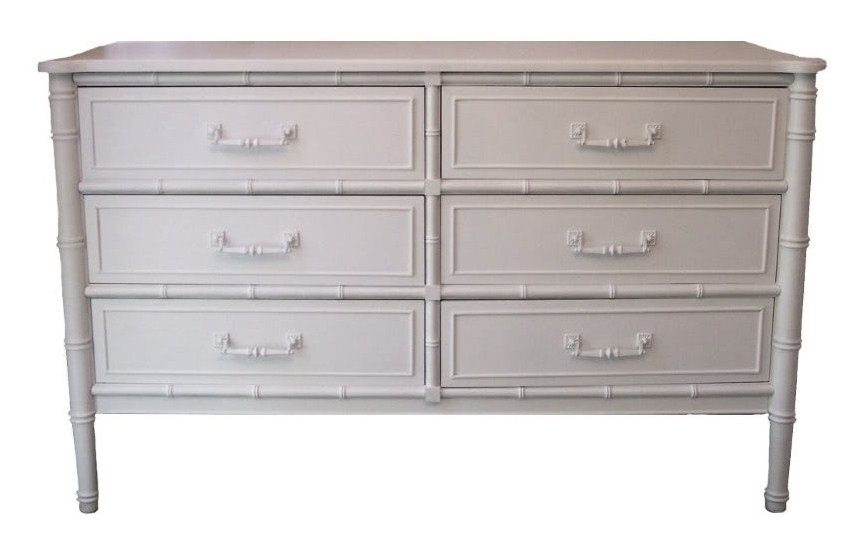 (photos: craigslist.com, mattersofstyle.com, thefrenchprovencialfurniture.com)